The Choices You Make Today, Will DECIDE Your Tomorrow!

WHAT is AEC? It is a faith-based ministry, whose mission is to reduce high risk behaviors, particularly regarding issues related to human sexuality with emphasis on abstinence before marriage. Our organization also miniters against alcohol abuse, illegal drug use, some legal additive drug use including opioids, destructive behaviors such as cutting and eating disorders. We promote good lifestyles in nutrition, good hygiene, healthy living and self-esteem. We do this by educating members of our community about making choices which are best for individuals, families, and the community as a whole, and thereby empowering them to make good healthy choices in their lives, for their future happiness, health and success.
WHY? Because we believe that it is every person's responsibility to help their neighbors, to mentor our young people and to contribute to a strong and healthy society. We also believe that all high risk behaviors come out of the same basic problems and that we need to address the roots of the problem and work on prevention in order to achieve our goals.

HOW? Through educational presentations, workshops, our affiliate Christian rock band "Treasure", storytelling, starting A+ Accountability Teams in schools and youth groups, music, fashion shows and teas and through our presence at fairs, festivals and church bazaars; as well as through the promotion of books like "The Princess and the Kiss" and "The Squire and the Scroll". Our programs emphasize the need for good character in order to make good decisions, based on 10 out of 11 studies that have found that character education increases the likelihood of abstinence by 90%. (Center for the 4th and 5th R's, The Virtues Project).

WHEN? We will come to your event, meeting, class or group. Just fill out the application on this website and we will try to schedule a presenter (or two!). We will work to set up A+ Accountability Teams in order to have fellow students watch each others backs.
WHERE? We will speak or give workshops at public or private middle or high schools; at colleges or universities, at churches; at libraries; or for organizations. We would also be happy to set up an information table at fairs, concerts, bazaars or any other public event.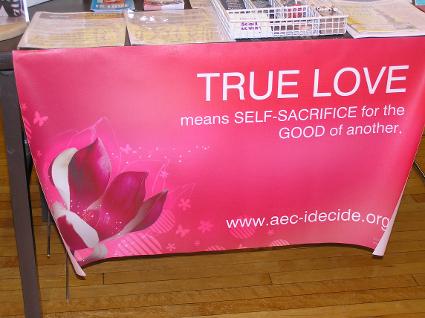 AEC-I Decide copyright 7/2010-2013
WHY ABSTINENCE WORKS!
People are programmed to learn by seeing, hearing and experiencing. Common sense tells us that whatever goes into our bodies through our five senses will impact who and what we are. We live in a society where media has a very strong influence in our lives. Unless a person is taught otherwise, most people will believe that the culture that they are immersed in is the reality. If they are immersed in a culture where media is king, and movies, magazines, tv and video games are their only point of reference, they will start to believe in that alternative reality. Unfortunately, media does not exist for the benefit or education of its audience; it exists to make money. Media has to interest people to get their attention and people aren't interested in the ordinary. We need more and more stimulus to keep us interested, and that has turned into an increase in portrayals of violence, sex, alcohol, drugs and smoking, 1 which is translating into increasingly bizarre and unhealthy behaviors in our homes, in our communities and in our country.
On the flip-side, if we teach such traits as self-control and responsibility and limit media exposure, it stands to reason that that is how we will behave. Research proves that to be true. 2
Research also proves that abstinence can be taught and works.3
Even better, are the findings that teaching good character increases the likelihood of abstinence by 90%! 4
There is NO downside to abstinence. Abstinence means no lies, no worries, no diseases and no regrets about a part of a person's life that can affect their whole mental, physical, emotional and spiritual health.. 5
For young, unmarried people, abstinence is the only choice for a happy, healthy and successful future.
1.Dr. David Walsh - Mediawise (presently affiliation Search Institute).
3. http://www.lifesitenews.com/ldn/2007/jun/07061304.html,

http://www.abstinence.net/pdf/contentmgmt/abstinence.pdf.
http://www.abstinence.net/pdf/01JanFeb0608Weed1FINAL.pdf

4. Center for the 4th and 5th Rs http://cortland.edu/character/newsletters/2008-Winter-blue.pdf
5.C. Brent Boles MD http://blogs.tennessean.com/opinion/2010/06/10/abstinence-benefits-are-clear/
Abstinence - means I - Decide
No lies. No worries. No diseases. No regrets.
My KEY to a happy and healthy future.